Thanks!
We got your message and will be in touch as soon as possible.
Nice to meet you!
We'd love to hear more about you and your ideas.

30 Nov 19
|
PAGE SPEED
Increasing page views 226% for Ballarat Tourism
'Roundup' is the collection of key stuff we've either been reading, discussing or working on during the month at Avenue.
When we build any website, we aim to build the fastest website possible, and rebuilding the Visit Ballarat website was was no exception.
Now that the 6 month campaign has ended, we've got some great stats to share due to putting website performance first.
By now, we all should have a basic understanding of why the speed of your website matters. Typically, when we look at improving the page speed of a website, it's because we are looking for a positive flow-on effect in the following stats:
SEO (Search Engine Optimisation)
Conversions
Bounce rates
User Experience
Revenue
Fast sites translate into higher revenue, a better user experience, and greater lead conversion.
Slow pages = lost customers
Tourism in Ballarat is big business, with international and domestic users spending over $500 million in 2018. It's crucial that all visitors to the website get an engaging experience delivered to them as fast as possible.
Unfortunately, when auditing the page speed of the old Visit Ballarat website, we found that key landing pages (including the homepage) were taking over 15 seconds to load. This was terrible for converting users because we know that:
Blazing fast static website
To address the page speed issues, we created a blazing fast static website using our favourite framework: Gatsby. A static website is pre-built and hosted close to your users, no matter where they are in the world. The website is ready to go before the user even interacts with it. There are no database requests, servers or delays in loading the webpage.
When you click through Visit Ballarat the pages feel like they load instantly. Whether it be interacting with a calendar or scrolling through an itinerary, the page feels snappy to use. When we run an audit of the popular what's on page using Google's PageSpeed Insights tool, we can see some really impressive results: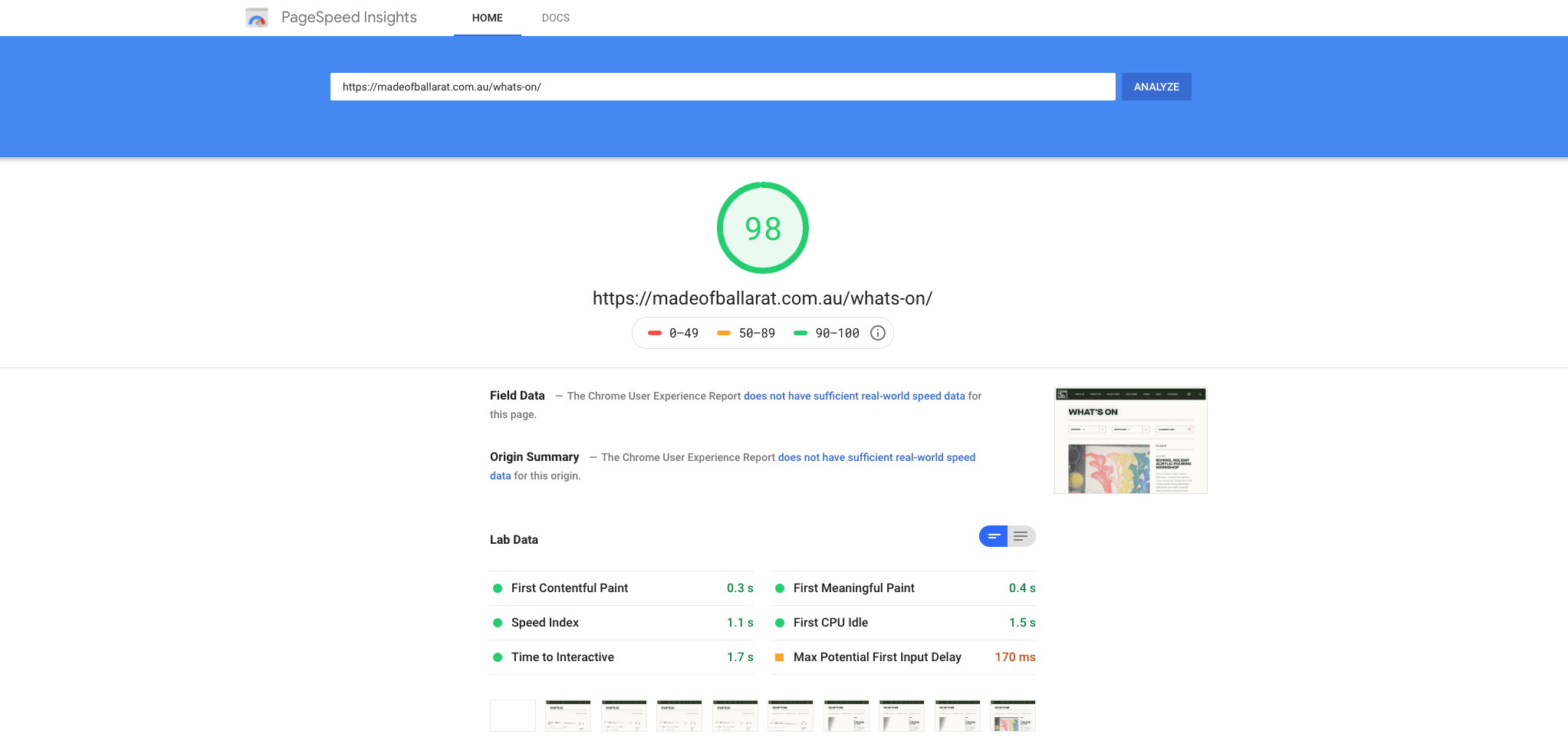 And the results?
Fast sites translate into higher revenue, a better user experience, and greater lead conversion. These are the juiciest stats that show the improvements we made with the new static website (compared to the previous years campaign):
Engagement
149% increase in Sessions
226.53% increase in Page Views
31% increase in Pages per Session
60% Bounce Rate Reduction (85% reduction on the Homepage)
Seo
22% increase in users from organic search
Page Speed
78% improvement in average page load time
34.09% improvement in average page load time
To learn more about the campaign you can checkout our case study
.


Think we might be a good fit for your project?